When I walked across the country back in 2003, digital mapping was in its infancy and the only real choice was to use Ordnance Survey maps to find your way from Land's End to John o'Groats. These days digital mapping is available to everyone, and for most LEJOG walkers, smartphones are a less bulky and potentially cheaper solution than paper maps, but some people still prefer traditional paper maps, so here's some advice on both technologies.
Digital Maps
These days, most people tend to use digital maps on their smartphones for walking LEJOG; it's a lot easier than lugging round heavy and expensive paper maps, with the added advantage that you always know where you are. If you want to walk across the country digitally, then you'll need three things:
A digital device, such a smartphone or GPS, that can show maps, routes and your current position

Route planning software so you can plan your route in the first place

If required, the digital maps themselves for your device to display
You can spend a fortune on state-of-the-art Ordnance Survey-enabled GPS systems that combine all three in one tough package, or you can cobble something together with a cheap smartphone for a much smaller budget, but whatever your method, it's definitely possible to walk from Land's End to John o'Groats using nothing but digital mapping (and plenty of people do just that). Here's a very short guide to the most popular options.
The easiest approach is to download an app for your phone that can load GPX files – there are quite a few options available for both iPhone and Android. You can download GPX versions of each of the maps on my site by clicking the "GPX" link just above the map, and you should be able to load these into your software. To save you the clicks, here are the maps for each of the walk's sections:
There is also a GPX file for the entire walk, though you may find that this is too big for your GPX app.
In terms of navigating your chosen route, the main option for most of us is going to be a smartphone like an iPhone or an Android phone. For basic road walking, the built-in Google Maps or Apple Maps will do fine, but as soon as you go off-road, you'll want a proper mapping app that's aimed at walkers. Luckily there are lots of apps to choose from, the best of which include OS maps for very reasonable prices (such as Outdoors, or the subscription-based OS Maps app from the Ordnance Survey, to name just two).
For route planning, you could plan your route on a smartphone app, but for serious walks you'll probably want to use a desktop computer. The most popular route-planning packages are by Anquet and Memory-Map, but they only run on Windows and they're not cheap; they do, however, come with some amazingly powerful features, so if your device is compatible, you should at least consider them, especially if you can pick up a second-hand copy on eBay. If you're looking for something cheaper, then you should consider Google Maps (specifically the My Maps feature) and Ordnance Survey Getamap; these excellent online mapping services let you design walking routes and export them to your GPS for a fraction of the cost of the PC-based mapping packages.
If you don't have a smart phone or a modern GPS, but you still want to design your route digitally and don't want to shell out for paper maps, you could try the following:
Export the route map from your route-planning software as a sequence of images, using nothing more sophsticated than a screen grabber, and simply load these into a cheap digital device as static images; this won't show your location on the map, but you can always bring along a basic GPS to show you that.

Print out the route map in little strips using a colour printer, and again use a separate GPS to show your location.
Whatever your solution, bear in mind that if the batteries run out on your phone or digital map and you don't know where you are, then you could be in real trouble. Always try to carry spare batteries or a backup navigation system, and don't expect to have a mobile signal out there in the wilderness. It isn't like using a sat-nav in your car...
Paper Maps
One of the biggest challenges of doing a 1111-mile walk with paper maps is carrying them all. There are two main options, both from the Ordnance Survey. Best, but also the heaviest and most expensive, are their amazing 1:25,000 Explorer maps; for those on a budget, their 1:50,000 Landranger maps contain less detail, but they're good enough if you don't mind getting lost every now and then. I went for the Explorer option and needed 54 maps to get from Land's End to John o'Groats. Obviously it wasn't an option to carry all these maps from one end to the other – 54 maps is a hell of a large pile – but luckily my girlfriend visited me regularly and brought me new batches while relieving me of the maps I'd already walked across. I also got batches posted to B&Bs along the way and sent back used maps via the Post Office, so the maximum number I ended up carrying at a time was 15.
I also bought a few guidebooks along the way, but none of them came close to Explorer maps for route finding. They did manage to add a little colour to proceedings and told me interesting facts about where I was walking, but if you already have the Explorer maps, I'm not convinced they're worth the extra weight; however, for long sections like the Pennine Way, where you would need nine Explorer maps compared to two official guidebooks, you could save money and weight by ditching the maps and sticking to the guidebooks. I can't recommend Explorer maps enough, though; they show every hedge, field and path, and they're all you need to find your way. And if, like me, you take along a highlighter pen and mark your route as you walk, you'll end up with a shelf full of maps showing every single footstep of your walk, and if that isn't worth a few hundred quid as a momento of this once-in-a-lifetime experience, I don't know what is.
If the thought of buying 54 maps fills you and your bank manager with dread, then you probably want to go digital, but if paper maps are your thing, here's what you need to buy.
The Southwest
You need 15 Explorer maps to cover the 238.5 miles from Land's End to Bath, if you go through the middle of Cornwall, Devon and Somerset. There aren't too many long-distance paths round these parts – not heading east-west, anyway – so you have to make up your own route a lot of the time, which is where Explorer maps really come into their own.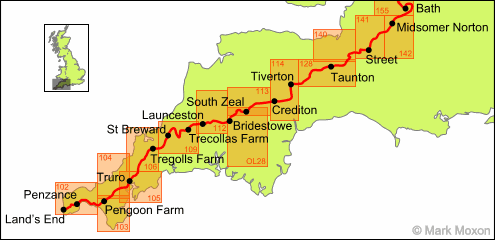 Here's a list of the Explorer maps required to follow my route through southwest England from Land's End to Bath, going through the centre of Cornwall, Devon and Somerset:
| Map Number | Map Name |
| --- | --- |
| 102 | Land's End |
| 103 | The Lizard |
| 104 | Redruth & St Agnes |
| 105 | Falmouth & Mevagissey |
| 106 | Newquay & Padstow |
| 109 | Bodmin Moor |
| 112 | Launceston |
| OL28 | Dartmoor |
| 113 | Okehampton |
| 114 | Exeter & the Exe Valley |
| 128 | Taunton & Blackdown Hills |
| 140 | Quantock Hills & Bridgwater |
| 141 | Cheddar Gorge |
| 142 | Shepton Mallet |
| 155 | Bristol & Bath |
The Midlands
You need 12 Explorer maps to cover the 200.5 miles from Bath to Edale. The route takes in three days of the Cotswold Way, three-and-a-half days of the Severn Way, three days of the Staffordshire Way and two-and-a-half days of the Limestone Way. The way-markers are not bad and all these tracks are marked on Explorer maps, and generally navigation is pretty straightforward (well, apart from the Limestone Way, which is very hard to follow in places).
Here's a list of the Explorer maps required to follow my route through the Midlands from Bath to the start of the Pennine Way at Edale:
| Map Number | Map Name |
| --- | --- |
| 155 | Bristol & Bath |
| 167 | Thornbury, Dursley & Yate |
| 168 | Stroud, Tetbury & Malmesbury |
| 179 | Gloucester & Cheltenham |
| 190 | Malvern Hills & Bredon Hill |
| 204 | Worcester & Droitwich Spa |
| 218 | Wyre Forest & Kidderminster |
| 242 | Telford & Ironbridge |
| 244 | Cannock Chase |
| 259 | Derby |
| OL24 | Peak District (White Peak) |
| OL1 | Peak District (Dark Peak) |
The North
You need just 9 Explorer maps to cover the 251.5 miles from Edale to Jedburgh, following the Pennine Way for most of the distance. I avoided the depressing day between Alston and Greenhead by taking the South Tyne Trail to Haltwhistle instead, and on the last day End-to-End walkers need to fork west to Jedburgh instead of tackling the Cheviots (unless you really fancy finishing the Pennine Way, which is up to you). Trail finding is easy enough: just follow the other walkers!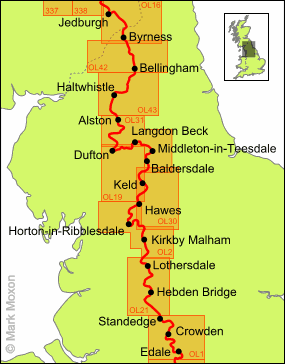 Here's a list of the Explorer maps required to follow my route through northern England from Edale to Jedburgh (i.e. the Pennine Way without the last section across the Cheviots):
| Map Number | Map Name |
| --- | --- |
| OL1 | Peak District (Dark Peak) |
| OL21 | South Pennines |
| OL2 | Yorkshire Dales (South) |
| OL30 | Yorkshire Dales (North) |
| OL19 | Howgill Fells |
| OL31 | North Pennines |
| OL43 | Hadrian's Wall |
| OL42 | Kielder Water & Forest |
| OL16 | The Cheviot Hills |
Southern Scotland
You need 13 Explorer maps to cover the 219 miles from Jedburgh to Fort William. This route only makes sense if you want to take in the West Highland Way and the Great Glen Way, as a much more direct route is to head north from Edinburgh to Perth, from where a new cycle track provides a good walkway to Inverness. Both options have their fans, and your enjoyment will mainly be dictated by the weather, whichever route you take.
Here's a list of the Explorer maps required to follow my route through southern Scotland from Jedburgh to Fort William:
| Map Number | Map Name |
| --- | --- |
| OL16 | The Cheviot Hills |
| 338 | Galashiels, Selkirk & Melrose |
| 337 | Peebles & Innerleithen |
| 344 | Pentland Hills |
| 350 | Edinburgh |
| 349 | Falkirk, Cumbernauld & Livingston |
| 348 | Campsie Fells |
| 342 | Glasgow |
| 347 | Loch Lomond South |
| 364 | Loch Lomond North |
| 377 | Loch Etive & Glen Orchy |
| 384 | Glen Coe & Glen Etive |
| 392 | Ben Nevis & Fort William |
Northern Scotland
You need 9 Explorer maps to cover the 201.5 miles from Fort William to John o'Groats. The route takes in the entire Great Glen Way from Fort William to Inverness, and then follows the coastal road from Inverness to Wick before finishing at John o'Groats itself.
Here's a list of the Explorer maps required to follow my route through northern Scotland from Fort William to John o'Groats. Note that there's about an inch of the route that isn't actually covered by these maps; on Explorer 416 the Great Glen Way wanders off the map as you go from one side to the other. If you want to make sure that every single step is covered then you'll need Explorer 431 (Glen Urquhart & Strathglass), but frankly I wouldn't bother, as the track is impossible to lose.
| Map Number | Map Name |
| --- | --- |
| 392 | Ben Nevis & Fort William |
| 400 | Loch Lochy & Glen Roy |
| 416 | Inverness, Loch Ness & Culloden |
| 432 | Black Isle |
| 438 | Dornoch & Tain |
| 441 | Lairg, Bonar Bridge & Golspie |
| 444 | Helmsdale & Strath of Kildonan |
| 450 | Wick & the Flow Country |
| 451 | Thurso & John o'Groats |