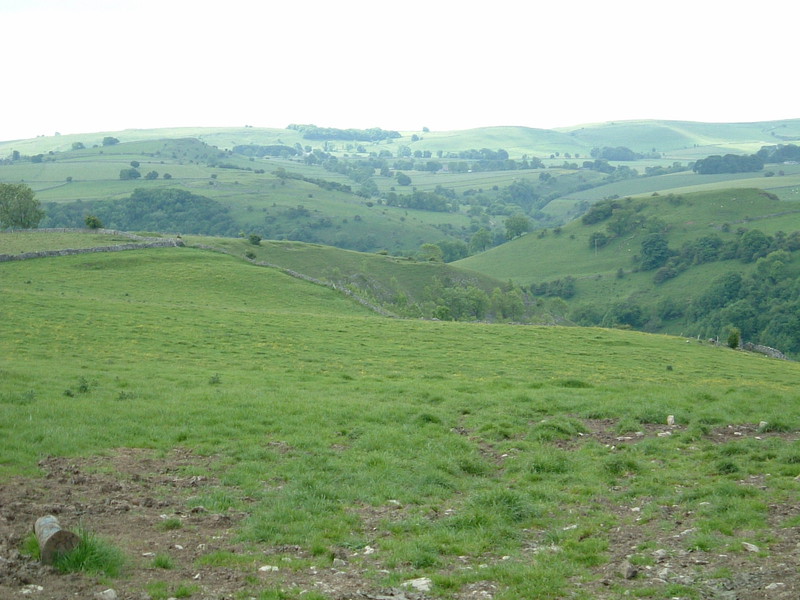 Today was a pretty easy day's walk, but it's definitely the calm before the storm because tomorrow I start the Pennine Way, which I'm planning to follow all the way to Scotland.
The Pennine Way, Britain's first official long-distance trail, is regarded by many people as the finest in the country. It opened way back in 1965, not long after the Peak National Park – also the first of its kind – opened in 1951. It was this sense of history and general approval among walkers that persuaded me to spend two weeks in 2000 walking the northern half of the Way.
I hated it. I have never been so miserable in my life and I didn't even manage to complete the section I'd planned; instead of walking from Horton-in-Ribblesdale in Yorkshire to the end of the Way just over the Scottish border in Kirk Yetholm, I gave up at Hadrian's Wall, took a bus to Newcastle and gladly paid £75 to get back to London as quickly as possible. Ever since then I've had a major hang-up about the Pennine Way and the prospect of starting it tomorrow fills me with utter dread.
But before I get it all off my chest, let me describe today's walk.
School Trip
Today I got up later than usual, strolled gently and took my time, and it helped. I needed help because this morning I woke up in a totally miserable state, the loneliness of the long-distance walker hitting me in the pit of the stomach. Sometimes, for no apparent reason, being alone on this long haul gets to me, and this morning I felt utterly down.
Perhaps it was the effect of the Waterloo Inn's isolation. It sits on the busy A6, a mile west of Taddington, and on a Thursday night it's not exactly the busiest of places. The other drinkers in the pub last night were strangely introverted, huddling together in their couples and groups and hardly whispering a word to each other, while a solitary tape played around and around, gently pumping irritating boy bands and soft ballads through the pub's sound system. I now know the words to a Ronan Keating song by heart and I'm not happy about it; by the time I went to bed I was itching to get out of there.
So although I felt unloved and alone as the Limestone Way wound north from the Waterloo, I knew it would pass as a temporary trick of the brain, and sure enough the hours chipped away at my sulk and instead turned it into dread. For looming ahead of me is the area they call the Dark Peak, and it's an accurate name, as the limestone of the White Peak changes into the darker gritstone of the Pennine Way.
First, though, the Limestone Way dips down to Castleton, and what a lovely place it is. The path cuts through a steep-sided valley called Cave Dale with the remains of the Norman-built Peveril Castle looming over the entrance, and after passing through a notch in the limestone, the centre of Castleton suddenly opens up before you. It's a bit of a shock after the wilderness of the dale.
This shock mainly comes from the large number of tourists who clutter up the village. As I rounded the corner, the noisy babble of schoolchildren hit me full in the face, and before I could adjust two pug-faced kids accosted me and politely asked if I could help them with a survey.
'Um, a survey?' I said, totally wrong-footed. 'Uh, yeah, OK.'
'Cool,' said the kid with the close-cropped blonde hair as he stared down at his clipboard. 'Er, which place and which country do you come from?'
'London,' I said as the other boy, a lanky, mop-haired scruff, scribbled down my answers.
'Why have you come to Castleton today?' asked the blonde.
'I'm walking from Land's End to John o'Groats and it's on the way,' I said.
'Cor,' said the second boy, and scribbled 'Very Big Walk' in his pad.
'So how did you get here today?' asked the blonde.
'Um, I walked,' I said. 'From Land's End.'
'Cor,' said the second boy again, and this time he wrote down 'Walked from Land's End!!!!'
'And what are you going to do while you're here?' asked the blonde.
'I'm after a sandwich and a drink,' I said. 'Oh, and I'm going to look for maps too.'
'And what do you think of Castleton?' said the first boy.
'I dunno,' I said. 'I haven't had a chance to see yet, but judging by the number of school kids kicking around with clipboards, I think it's going to be quite a fun place.'
'Thank you very much for your time and for helping us with our questionnaire,' said the boy in the stuttered tones of someone who's been told to read out exactly what's on the card, and with that I was free to explore the village.
Even with the millions of kids and groups of other walkers, I liked the place. All of a sudden I didn't feel so lonely and that was a big relief, even if most of my newfound friends were 12.
Into Edale
From Castleton it's not far to Edale, but there's a big hurdle to cross in the form of Mam Tor, a long, high ridge that separates Castleton from the Vale of Edale. This is an area of amazing limestone caves – Blue John, Speedwell, Treak Cliff and Peak Caverns are all within spitting distance of the path – and the landscape is pretty impressive on the surface too. As a taster of things to come, the steady uphill climb to Hollins Cross over into Edale is a good reminder that from here things get harder and the views get ever more impressive.
From the viewpoint at Hollins Cross the Vale of Edale is laid out like a planner's model and it's the work of a few minutes with a map to pick out the start of the Pennine Way at the Old Nag's Head in Edale. The moment I tracked down Edale I felt the familiar tingling of utter terror creeping up my back; the Pennine Way and me don't get on, and here's why.
When I tried the Pennine Way back in 2000, I got a lot of things wrong. I set off in September and the weather was completely miserable, especially on the longest and toughest day of the whole walk, over the top of Cross Fell from Dufton to Alston; when I tackled that section the visibility was no more than 20m for the entire day, and it's a testament to the quality of Ordnance Survey maps that I managed to get to Alston in one piece. My boots turned out to be almost completely un-waterproof and spent most of the ten or so days on the Way soaking up water like two heavy sponges. I got horrendous blisters, one covering my entire heel, which my wet socks only irritated further. I stupidly decided to take far too much stuff but forgot to pack a waterproof cover for my backpack, so not only was my pack too heavy to start with, it got heavier in the rain, of which there was an awful lot. And to cap it all, I didn't build one single rest day into my itinerary and reckoned I could make it from Horton to Kirk Yetholm in two weeks without any prior training except for a few days in the gym.
Quite clearly I was mad, and I've learned from my mistakes. The weather can turn nasty in June and July (though it's far less likely than in the latter half of September) and on this walk I've got Gore-Tex on my side; my boots this time round are far superior and I'm packing gaiters; I'm a blister expert and can at least dress them properly, even if they still make my life hell; my pack is a lot lighter and the contents are all essential; and finally I'm taking plenty of rest days en route. Yes, this time I'm as prepared as I'll ever be, but there are still two flies in the ointment.
The first is that I'm seriously wondering whether my boots are going to last the distance. I bought them new for this trip and apart from about 50 miles in London, when I broke them in, they've done nothing else apart from this walk. But they're already in a sorry state; I first noticed the tread wearing away in Cornwall – Cornwall! – and now, after nearly 440 miles, the tread is all but gone on the front of both soles. My gaiters, which slot cleverly into a gap in the tread, are starting to wear out because the gap is no longer there, and given the amount of wear that's already happened and the fact that I'm only about 40% of the way through this walk, I'm convinced that the soles won't make it to John o'Groats.
As if this isn't enough, when I arrived in Edale after a relatively relaxing 11-mile walk, I noticed that the second eyelet from the front of my right boot has popped out of its hole. As with most modern boots the lace doesn't pass through a hole, but feeds instead through a metal cleat that's attached to the boot; it's this cleat that's pulled off and as the metal fitting itself has snapped, it can't be repaired without proper equipment. In the short term it doesn't affect things too much – I've just threaded the lace through the next eyelet along – but with the tread disappearing and the cleats popping off, I'm starting to wonder what's going on.
But the biggest fly in the Pennine Way's ointment is a feeling that I can't shake no matter how hard I try. If you ignore my bad preparation from last time and the terrible weather, and you cast aside all concerns about equipment and rest days, then you end up with the simple fact that I genuinely didn't like it up North. I felt like a fish out of water, I didn't like the landscape, I felt horrified and depressed by the bog and the bleakness of it all, and I came away from the walk with one simple feeling. I felt that, basically, it was grim up North, and however stupid and ill-informed that sounds, deep down I still feel it. I'm hoping that this walk will help dispel that feeling; after all, it's a summer jaunt along the Pennine Way, and a jaunt that's part of a longer walk through the rest of the country, so it should make me feel differently. But there's a definite challenge there, because those two weeks in 2000 affected me so badly I've developed what can only be described as a phobia about the North, an irrational fear that's not based on anything logical, but which is most definitely still there.
I don't want to have a phobia about the North. I want to like the place and I don't want to associate places like the Pennines and Hadrian's Wall with miserable landscape, endless bog, continuous drizzle, unwelcoming villages and my failure to complete the Way. When I ran back to London in 2000, the official reason was that I had injured my foot on the steep descents and could no longer walk (scarily, this was the same injury that flared up in South Zeal a month ago and which made me reconsider the weight of my pack). But even though my physical injury meant I had no choice but to give up and go home, I'm not sure I would have finished the walk anyway. In my mind I already wanted to come home, because I was dismally unhappy and hated the Pennine Way.
So tomorrow isn't about the start of the best-known long-distance track in Britain and it isn't about Land's End to John o'Groats. It's about exorcising my demons, conquering a phobia by confronting it, and seeing if I can develop a happier relationship with the North. And on another level, a level that will no doubt help me get up those hills and through the difficult days ahead, it's about revenge. The bastard might have won the first battle, but I'm not only going to beat it second time round, I'm going to do it as part of a far greater walk. If that doesn't humiliate the Pennine Way into submission, I might as well throw away my boots.
That is, if they don't throw themselves away first.