To be honest, I really don't know what to think. One minute I'm effing and blinding about the bloody Pennine Way, screaming at the weather, the bleak landscape and the relentless effort of it all, and the next I'm enjoying a pleasant pint in another beautiful Yorkshire village and wondering why on earth I keep getting so stressed. My mind is an optimist and only wants to remember the good parts, so as I sit down to type this outside the Victoria Inn in Kirkby Malham, with a pint of Black Sheep ale and the bells of St Michael the Archangel for company, I can't quite understand why this morning's walk got me so worked up. But it did, and I'd better get it down on paper before the filtering effect of nostalgia turns it all too rosy.
The main problem with this morning was the weather. This is June and tomorrow is the longest day of the year, yet there's a freezing wind smashing into the Pennines from the west. From here in the pub garden all I can feel is the odd chilly gust, and although the clouds above are racing past, it's not unpleasant; this morning, though, it was a different story. I started out in my trusty T-shirt and tracksuit bottoms combo, but by the time I'd started the climb up Pinhaw Beacon, just outside Lothersdale, I'd already lost the feeling in my ears.
This wind meant business, and for only the second time in my entire walk I had to delve right to the bottom of my pack to pull out my woolly hat; the last time was on Bodmin Moor back in mid-May. Unfortunately I wasn't quick enough to prevent a sharp attack of earache, and I had to resort to pulling on my Gore-Tex jacket and jamming the hood down over the top of my hat. But not only was the wind bitterly cold, it was bloody strong too, and with the wind blowing from west to east and the Pennine Way going from east to west, I felt like an Alaskan skydiver with inadequate equipment (inasmuch as I could feel anything at all).
This turned the start of the Pennine Way's middle third into a rather less memorable experience than it should have been, for on the top of Pinhaw Beacon the Yorkshire Dales open out in front of you and it's a sight to behold. Gone (for the moment) are the bleak moors and instead there's a short day of farmers' fields, river walking and almost no climbing. I should have loved it, but I was too busy wondering whether I should shave off my beard to make me that little bit more slipstreamed.
Tantalising Glimpse
It was a pity the weather didn't want to play ball, because I'd probably have enjoyed this day a whole lot more in pleasant weather. Instead of depressing moors and endless climbs, this easy Pennine stroll is more like an average day in Devon, and after four days of bog, heather and grouse, I was definitely in the mood for a change. If you ignore the short climb up Pinhaw, today consisted of an easy farmland stroll through Thornton-in-Craven and East Marton to Gargrave, before joining the River Aire just shy of Airton for some easy riverbank strolling to Kirkby Malham. Most people continue to Malham, a mile and a half further north, but I couldn't find anywhere with vacancies in Malham, so instead I stopped early, a good move given the quality of the Victoria Inn's Black Sheep ale.
On top of this, the most amazing treat awaited me in East Marton, about halfway through the day's walk. After an uphill walk through fairly nondescript farmland towards the edge of my map, the Pennine Way suddenly decides to pull on its black leather trousers and figure-hugging white T-shirt and mince its way along for the next half a mile. Gone are the hardcore moors and uphill struggles of the last few days and there, looking a bit sheepish, is a stretch of canal. Yes, canal! But this is the Pennine Way! They don't do canals round here! This is a walk where you're supposed to keep smiling while you sink up to your knees in bog! Canal? Ha!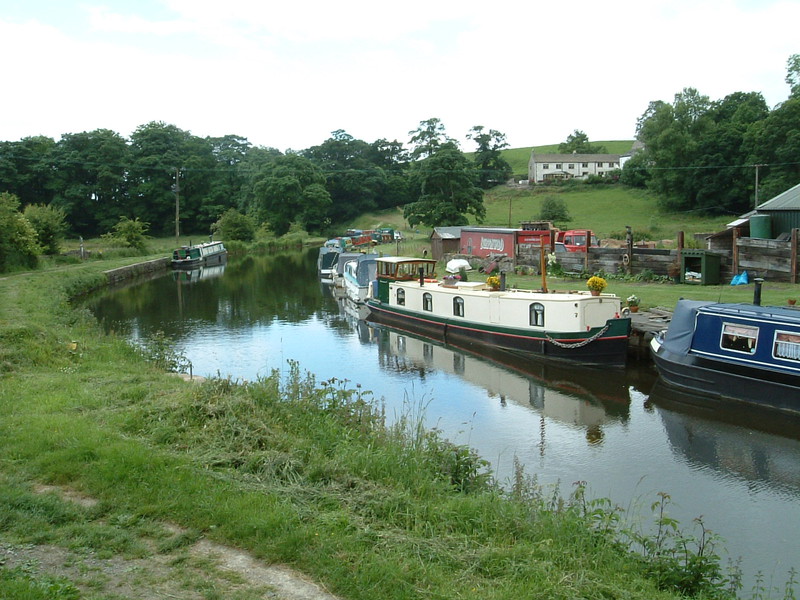 I couldn't care less about the Pennine Way's bravado, though, because I love canals. I go to gay clubs, I sleep with teddy bears and I cry in soppy movies (though I'm damn good at hiding it) and I like canal walking. Canals are flat and interesting, and after the hairy-backed testosterone of the moors they're a great relief, so I set out along the Leeds and Liverpool Canal at a brisk pace. I even minced for a few metres – until the narrow boats came into view, anyway – and it felt good.
I needed to flip over to the next Ordnance Survey map, though, so I hurried round the nearby corner, dropped my pack and fished out the new map, only to find out that the Pennine Way leaves the canal at that very point, after just half a mile of towpath. I spent the next few miles in a girlie strop, unhappy that yet again I was going to have to tackle the countryside rather than float along with it; it's good to be in touch with your feminine side, but on a walk like this, it never lasts long.
Kirkby Malham
As with the whole of the Pennine Way so far, I found the walking today to be less than inspiring but the destination utterly charming. Kirkby Malham is a very small village with a church, a pub and precious little else except houses, but even in the chilly wind I found enough to keep me occupied for hours.
I wandered round the village centre, exploring every nook and cranny, which took all of a quarter of an hour. I creaked my way through the cemetery gates and stood for ages reading the inscriptions on the ancient gravestones. I poked my head through the welcoming doors of the church of St Michael the Archangel and enjoyed a peaceful few minutes admiring the stained glass windows and some intriguing box pews. And just as I was returning to the pub for a pint and a chance to write up the day's events, I chanced upon the community notice board.
I love community notice boards for the same reason I love local newspapers. They rarely carry anything of genuine importance, but they're a fascinating insight into the local community and the one in Kirkby Malham is no exception. There were notices that the local parish's accounts were now available for inspection; there was an invitation to view a bunch of nearby gardens that would be open to the public for one day only; and there were details of recent local election results. But the most interesting notice sent my imagination sprawling. It said:
Friends of Kirkby Malham School
Invite you
"Back to School"
At Bolton Abbey Village Hall

7.30pm – 12.00
A strictly ADULTS ONLY disco!!
School Uniform to be Worn
A night of Fantastic Music
Fabulous Food
Frivolous Fun
Licensed Bar
NO RAFFLE
Tickets £12.50
As I stood there lamenting the fact that school disco, like karaoke, seems to have infected the entire country, a couple of kids wandered past, kicking a football.
'Is that your car?' asked the little girl, pointing to a green car by the road.
'No,' I said. 'I don't need a car, I'm walking.'
'Oh,' said the little boy.
'Yeah,' I said. 'I've walked 500 miles to get here, so I don't need a car. I've walked all the way from Land's End, at the bottom end of the country.'
'500 miles?' said the little girl.
'Yep, and I'm walking all the way to Scotland too,' I said.
'You know what I think?' said the little girl after a moment's pause.
'No, what?' I said.
'I think you're a bit silly in the head,' she said, tapping her ear with her finger.
'That's the most sensible thing I've heard all day,' I said, and left them to their ball game as the sun went down on Kirkby Malham.