Back in 122 AD when the Emperor Hadrian built his eponymous wall, Haltwhistle was at the very edge of the Roman Empire. The tribes in the north had driven the invading Romans south to this point, and the wall was a way of consolidating the northern border of the empire and stopping any further incursions. However, one can't help wondering whether your average Mediterranean soldier actually wanted to go any further north anyway, for in the rain that so often strikes the north of England, Hadrian's Wall is a truly dismal place.
It's not fair of me to criticise Northumberland when all I've seen of it is mist, midges and mud, but today I couldn't shake off a strange feeling of foreboding. The last time I was at Hadrian's Wall it also rained, and I sat in the pub at Once Brewed and drowned my sorrows at being beaten by the Pennine Way while the wind lashed the windows and made me only too happy to leave. This time things are different – I'm still able to walk, for a start – but the rain's still here, the skies are still grey and the outlook is still dreary. It's a shame; it'd be great to see Hadrian's Wall in sunshine for once.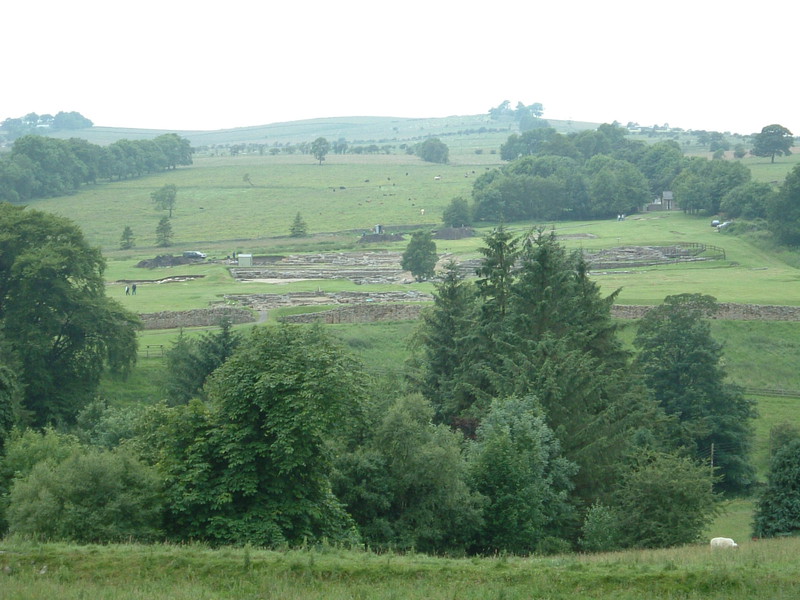 Then again, it's not as if I've actually been on Hadrian's Wall today. As with most defensive walls, the builders didn't care whether it was easy for the soldiers to walk along the top of the thing; they were far more interested in stopping the screaming hordes from invading. The result is a wall that takes in all the highest and most defensible parts of the landscape, and if the soldiers found that it was hard work walking from turret to turret, then I guess that was just tough.
For those walking the Pennine Way, the path east along the top of what was once the wall is a killer and I wanted absolutely no part of it. Life is too short to kill yourself for the sake of sticking to a trail that you don't like much in the first place, so from Haltwhistle I headed east along minor roads, byways, footpaths and bridleways, and I enjoyed looking at Hadrian's Wall from a distance and thinking how glad I was not to be going up and down, up and down, up and down, and up and down some more, weighed down by a heavy pack like a poor conscript in the Roman army. Things are hard enough round here without being a masochist, and besides, I've already seen Hadrian's Wall once. It's a wall, it rains a lot there, and it's best seen from within the comfort of a holiday that includes a car, somewhere warm and dry to sleep, and the kind of schedule that can duck into the pub for the afternoon when it's raining too much. Given that, I'm sure the Wall experience would be sublime rather than ridiculous.
Bitches and Cows
Unfortunately I had to rejoin the Pennine Way at some stage because it's still the most logical way to head north from Hadrian's Wall. I enjoyed the few miles of field-hopping to the south of the wall, but after skirting the ancient ruins of Vindolanda, an old Roman fort, I turned north towards Turret 37A, where a Pennine Way sign points towards the unedifying sight of wet fields and the pine trees of Wark Forest in the near distance. A few days ago one of the nutters on his umpteenth Pennine Way had been warbling on about his favourite parts of the walk, and I asked him what he thought about the section after Hadrian's Wall. 'It's forest, farm and fuck all else,' he replied, and looking north from the wall, I could see his point. I felt like I was on the edge of the known world and it felt bloody lonely. This might be because Matt's no longer with me; I've walked with Matt on and off since Keld and he was excellent company, but his walk ends today at the eastern end of Hadrian's Wall, so we said goodbye this morning and went our separate ways. I like walking alone, but the parting of good company always brings on a strangely empty feeling.
Mother Nature obviously took pity on me, because at that moment she sent me a friend. And did she conjure up another walker to keep my mind off the lonely miles ahead? Did she hell. She sent me a bloody dog, and one with absolutely no idea what 'no' means. Out of the reedy grass on Turret 37A bounced this little bundle of fun, and even though I know precious little about dogs, even I could tell that (a) she was a bitch, (b) she was black and (c) she was far too young to be wandering around Hadrian's Wall on her own. Her owners didn't seem to be around and she didn't have a collar, and as with all the strays I've bumped into on this walk, she decided to make me her special friend, despite my complete lack of interest.
I didn't want a dog as a walking companion; I didn't want a dog, full stop. So I tried ignoring her, and she bounced along by my feet. I tried very loud profanities and hand gestures that even the most retarded dog should have understood, and she thought it was a really fun game. I tried throwing stones at her, aiming to miss but trying to make the point that I was a really nasty human and she shouldn't hang around for fear of getting a stone between the eyes, and she thought I was playing a game of catch. I tried thwacking her arse with my trekking sticks – not hard, but firm enough to make the point – and even though she seemed to realise this wasn't a friendly gesture, she refused to move. Like it or not, it looked like I had a friend for life.
But I really don't like the company of dogs, not so much because of the dogs themselves, but because of the effect they have on the wildlife around me. Sheep aren't much of a problem – they just run away when puppies bounce through the fields after me – but cows don't like dogs, and they don't like them enough to get violent. Earlier this year a woman was mown down and killed by cows when she walked her dog through their field; even though she'd walked her dog through the same field many times, the cows took exception to it one day – almost certainly because they had calves with them at the time – and trampled her to death. Apparently they went for the dog and she scooped it up in her arms to protect it, inadvertently becoming the unwitting target of the cows' stampede herself.
The effect of my unwanted friend on the next field of cows was incredible. Cows are normally pretty docile, but as soon as I came round the corner they started yelling and screaming and running towards me. This wasn't the inquisitiveness of bullocks or me stumbling on a herd of cows marching off to be milked, this was the natural instinct of the herd to defend itself. They were going for the dog and the dog was hiding behind me, scared out of her wits at the sudden commotion.
I had no choice but to scream at the dog to run away, and luckily it took the hint and ran off round the field, only to meet me at the gate. There the poor beast screamed to a halt in front of a group of elderly walkers who were looking at me with the kind of sage look that those who know better tend to aim at young whippersnappers like me.
'Don't forget your dog,' one of them said, shooing the dog through the gate and letting his disapproving tone do the talking for him.
'She's not my bloody dog,' I said. 'She's been following me, and nearly got me mown down by those cows. I can't get rid of her, no matter what I try; God knows where she came from.'
'Ah,' another said, and suddenly I wasn't necessarily such a stupid bugger after all. 'She must be lost, then. Maybe she'll come with us; we're heading back to the wall.'
'Thanks,' I said, and with that I gratefully left the dog with the walking group and struck off for Wark Forest, happy to be alone once again.
Mirkwood
Wark Forest is a dismal place. It's a man-made pine plantation, and although the Pennine Way spends quite a lot of time wandering through it, it's no walker's paradise. The midges are so bad that when you stop for lunch you inadvertently become it, and underfoot the paths are either sodden and marshy, or stony and hard. The closely packed pine trees shut out all light, so the view on either side is murky and downright scary; the only respite is when you walk through areas that have recently been logged, which look like the aftermath of a nuclear blast. I suppose it could be a lot worse – there are precious few hills and no steep climbs – but it's a bit like being stuck in Hades with your punishment being to walk through endlessly muddy and midge-infested pine forests until hell freezes over.
Even the breaks between the sections of forest are depressing. One part, Haughton Common, was even marshier than the forest, but at least there were fewer midges so I sat down to have lunch on an old shepherd's shelter that consisted of some dilapidated stone walls surrounding four trees that had taken on the weather and lost. The only highlight was when a Dutch couple walked the other way and nodded hello, and when we fell into conversation and I mentioned I was heading for John o'Groats, they said, 'Ah! Are you Mr Mark?' I have no idea how they knew my name, but in a place as strange as Wark Forest, you don't ask too many questions...
What's in a Name?
Soon enough the forest ends and the rest of the walk passes through – you guessed it – farmland. This farmland, though, is different; it feels utterly unloved and isolated. Buildings are few and far between and I even found myself hankering for farmhouses with over-friendly dogs; at least that would be a sign of life in this sparse, lonely countryside. One highlight was a field in which all the cows obviously had the horn; the one bull in the field was busy trying to shag his sweetheart right by the stile I had to climb, and all around bullocks tried it on with other bullocks and even with their mothers in a field-wide show of hormones that gave new meaning to the term 'meat market.' I even saw a cow trying to hump the bull with her udders, though without much success; out here, there's precious little else to do, I guess.
The farms seem to go on forever. Military planes shoot overhead, flying noisily low, and deep booms echo through the treetops, presumably coming from the Military Danger Area to the north of Bellingham. To the east of the path lies the Northumberland National Park, which looks as lonely as the rest of the countryside, and the day settled into long walking sessions punctuated by short breaks in the wet grass. On one of these breaks I idly looked over the map, and a quick scan of the names sums the whole place up. There's Shitlington Crags, Black Bog, Willowbog, Naked Man, the Lumps, Horneystead Crags, Windy Edge, Goatstones, Bleaklaw and a whole thesaurus of equally friendly names, but top of the pile has to be a spot just north of the Way. There, in the middle of the forest, is Lousy Bog; I presume the Ordnance Survey missed out the preceding expletive on grounds of decency.
Finally after endless miles of marshy farmland I arrived in Bellingham (pronounced 'Bell-in-jum'), where at least they had a pub amongst all the midges and the laugh-a-minute place names.
And then it started to rain. Again.