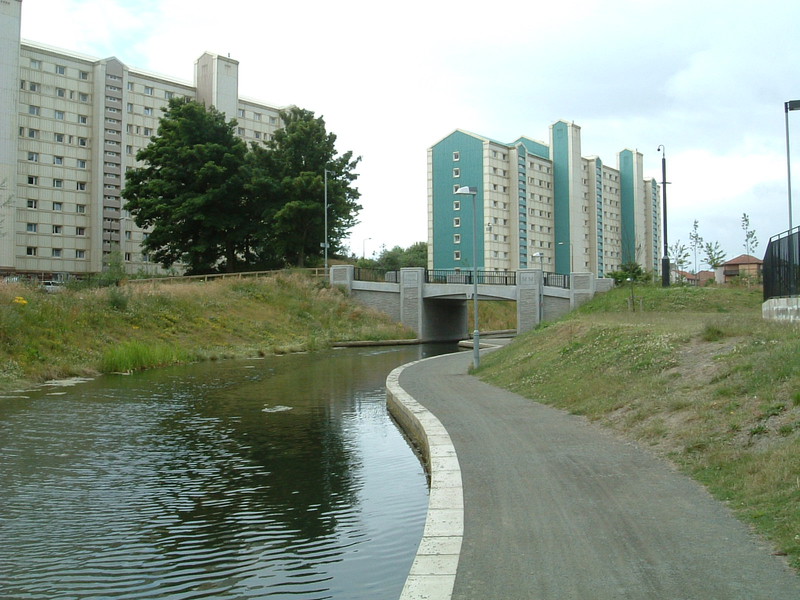 I've been looking forward to this part of the walk for ages, and do you know why? Because for the whole of today and tomorrow I'm following canals without any deviations whatsoever, and after the ups and downs of the last few weeks, these canals have assumed a mythical significance for me.
Today I followed the Union Canal from the centre of Edinburgh all the way to Linlithgow; tomorrow I continue along the Union to Falkirk, where I switch to the Forth and Clyde Canal all the way to Kilsyth. It's all canal towpaths, it's all easy, and there are two reasons why today should have been one of the easiest walks of the whole trip.
First up, the Union Canal has no locks in its entire 31.5 miles, opting instead to stick rigidly to the 73m contour all the way from Edinburgh to Falkirk; indeed, it was nicknamed the Mathematical River because not only is it at the same height from start to finish, it's also pretty much the same width and the same depth too. OK, so this means it has to do a fair amount of winding about to stay at the same height and at one point you almost double back on yourself to follow the contour, but it does mean that the entire walk is guaranteed to be flat.
The second reason is that both canals have recently undergone a multi-million-pound facelift as part of the millennium celebrations, resulting in a long-distance cycle path called the Millennium Link that connects Glasgow and Edinburgh. Prior to this cash injection both canals were slipping into the kind of overgrown obscurity that throttled the eastern half of Somerset's Grand Western Canal, but now the canals are up and running again, they're being maintained, there are visitor centres, people can go on canal trips, and more importantly for walkers, you no longer have to hack through thick undergrowth to get along the canal. All you need to do is walk; it's that simple.
Well, it is on the map, anyway.
Prevailing Conditions
Somewhere around the 11-mile mark out of Edinburgh the M8 passes over the Union Canal, and in the gloomy shelter of the underpass I nodded hello to a man propping up his bike and rolling a joint. A few minutes later he caught me up as I huddled in the paltry shelter of a small bridge, trying to hide from a blustery shower that had just started dumping large amounts of water on my head. He joined me; we talked about the weather.
'Shit, isn't it?' he said.
'Sure is,' I said. 'The worst part is it blows right into your face.'
'Aye,' he said. 'It always blows this way, the weather. It goes from west to east round here, all the time.'
'Must be a bit of a pain on a bike,' I said.
'Ah, you get used to it,' he said. 'I ride this way every day, and it's fine coming into work; I zoom along. But coming back, ah, it's another story.'
'Is it always this windy?' I asked as the rain shot horizontally underneath the bridge, turning the placid canal into a ruffled torrent.
'Aye, pretty much,' he said. 'You might get no wind maybe, ooh, six days a year. It's just how it is. D'you smoke?' he continued, offering me a drag on his joint.
'Nah, thanks mate,' I said.
'I always stop under that bridge to roll one up,' he said. 'Helps me cope with the bloody wind.'
'Yeah, good idea,' I said, looking at the sky. 'Might be clearing up a bit.'
'Aye,' he said. 'Best be off. See you then.'
'Yeah, see you,' I said. 'Safe journey.'
And with that he pedalled off, wobbling into the gale as it gusted into my face, making my temples ache and my brain rattle inside my head. A nice flat, wiggly line on the map is one thing; following it head-on into the prevailing winds of Scotland is another thing altogether.
En Route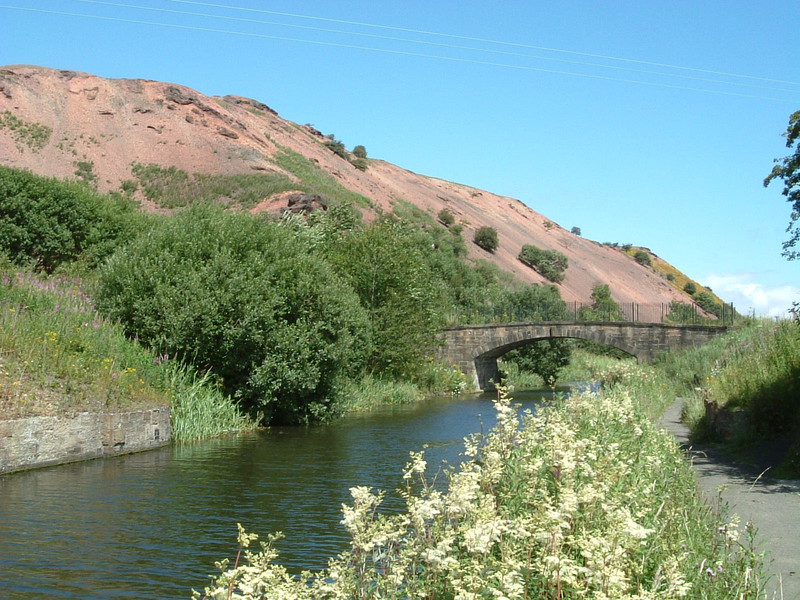 It also didn't help that last night I found myself stuck in a hostel dorm with six two-bed bunks; I'd wondered why the reception sold earplugs, and as the night wore on I found out why. Luckily I never travel anywhere without my own pair, but even earplugs can't conquer the curse of the bunk bed. Youth hostel bunks are rarely built to withstand the kind of treatment they get, and I was lucky enough to get the bed above the only man in the dorm who twitched instead of snoring. He didn't roll over gently and slobber into his pillow like the rest of my fellow insomniacs; instead, every now and then he'd jump like a jack rabbit, spasming into a new sleeping position while shaking the foundations like King Kong. Did I sleep? Did I hell. Sometimes in hostels you get an entire room to yourself and it's like Christmas; sometimes you get what you pay for, and that's when the money you save isn't worth a penny.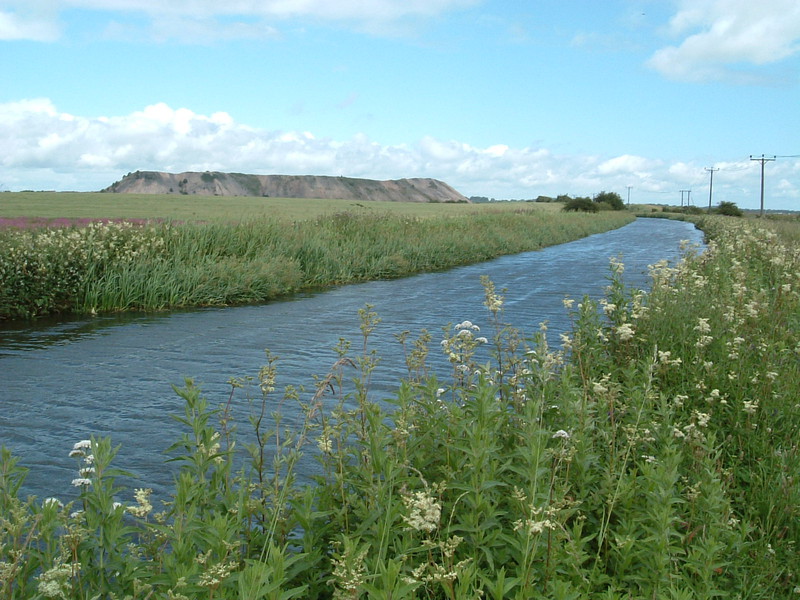 But even without the wind and the lack of sleep, this wouldn't have been a great walk. Canals are only as interesting as the stuff they carry and the Union has yet to develop any real traffic. It doesn't help that until very recently it was full of rubbish and completely unnavigable, but at least there are some signs that the canal is coming back to life.
In places like Ratho and Linlithgow the canal is a focus for tourism, with canal trips, canal museums and even floating restaurants on offer, but apart from these two spots – one about eight miles from Edinburgh and the other at the end of today's walk – the Union Canal is utterly lifeless. The odd family of swans breaks the monotony and for the most part the setting is tree-lined, rural and inoffensive, but as far as interesting canals go, the Union isn't there yet. I like canals for the boats, the canalside pubs and the entertainment of watching complete klutzes operating lock mechanisms in front of amused crowds, but I only saw a tiny handful of moored boats and there's just one canalside pub on the whole walk, which was firmly shut when I walked past. There are no locks, there are no holidaymakers and for the most part the canal is hemmed in on both sides by trees, giving the whole thing a slightly gloomy feel, especially under showery skies.
But some bits are fascinating, and none so much as the section through Broxburn. The halfway point in today's walk, Broxburn is hardly a desirable residence – well, it isn't from the towpath, anyway – and the endless greys of the pebbledash council houses are far from inviting. This is not where tourists come to hang out, and as you reach the edge of town after a fairly forgettable walking experience, the reason is not only obvious, it's totally unavoidable. For there, to the north of town, is the largest tip you're likely to see from a canal.
But – and here's the killer – it's actually rather beautiful. On this section of the canal you pass four tips – one in Broxburn, one in Winchburgh and the others on the way to Philpstoun – and there's no denying that they are huge scars on the landscape. The one north of Broxburn, though, is no longer in use1 and it's slowly being reclaimed by nature, as is the one in Winchburgh. When I caught sight of the first tip, I couldn't work out what it was; there were no contours on the map showing a massive, steep-sided monolith in the middle of West Lothian, but bang in front of me, glowing under a break in the clouds, was Ayers Rock. It shone red, its steep sides shimmering as clouds raced over the face of the sun, and even though I knew it was basically a pile of rubbish, I thought it looked great.
The second tip was similar, and I had to rub my eyes twice when I spotted the golf course hugging the bottom of its red and green slopes. Give it a few more years and a bit more vegetation, which in this weather shouldn't take long, and the tips of Broxburn will be reclamation success stories. 'All this is actually made up of industrial waste,' the tourist brochures will say. 'But now it's host to a popular canal, top-class golf courses, conference centres, bike trails and absolutely no pebbledash council houses.'
I think today I witnessed the early stages of rejuvenation of this part of the world. Good luck to 'em, I say; anyone who can make tips like these attractive deserves all the success they can get.
These Boots Weren't Made For Walking
Linlithgow itself is a pretty little place and I just had time to rush round the gardens of another exquisite Historic Scotland property, Linlithgow Palace, the birthplace of Mary, Queen of Scots. But I couldn't face wandering around town too long, even though the excellent Four Marys pub serves a mean pint of Kelburn Goldihops and has more real ales on offer than the entire Scottish Borders region. I'm afraid my feet are throbbing after 22.5 miles of pounding towpath, and they need a rest.
They could be throbbing for a reason, and that reason is the state of my boots. Today was the day they finally crossed the line and I'm now on the lookout for a decent footwear shop that's open when I'm in town. I might be in for a long wait, but I'm afraid my boots have had it.
More specifically, the left boot has had it and the right one is following suit quickly. I haven't had any tread on the front half of my left boot for a couple of weeks now, but today I noticed that it's actually worn through to the next layer, so it's only a matter of time before it wears through to the Gore-Tex and I have to replace them. Re-soling them is not an option because I simply don't have the time, so I'm looking at the horrible prospect of having to buy a new pair of boots and break them in as part of a long-distance walk. I don't relish the thought after going through this particular pain barrier once already, but although these boots will make it to 800 miles (which I reach tomorrow) they won't make it much beyond.
I'm not impressed, seeing as they were new for this trip, but at least it's the shoes that are wearing out and not my feet.
---
1 My thanks to Demon Drawer, who left a message in my Guestbook explaining more about the tips of Lothian. 'May I just give you the local lingo for the tips you witnessed at Winchburgh and Broxburn,' he writes. 'These are called Bings, and as you quite correctly point out they are tipping piles, in this case for the soil from which shale was extracted for one of the major local industries of the region (i.e. shale oil production). The flatness of the tops was because at some point in the last 20 years, for public safety reasons, the tops were flattened off.' Thanks for the information, DD – much appreciated.